Safety Zone Calf Catchers for Sale in South Dakota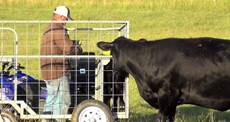 Streamline Your Calving Season.
Choose a Calf Catcher for safe and efficient calf handling.
Make your calving season the best one yet with a superior Calf Catcher. With a Calf Catcher, you can safely guard cattlemen from an over-protective mother cow when handling, vaccinating, branding, tagging, and transporting a calf. Crafted from high-quality, all-welded materials, our Calf Catchers are tested and proven to perform in rough terrain and challenging weather conditions.
Feel free to contact us or stop in to find the right calf catcher for your ATV or UTV today.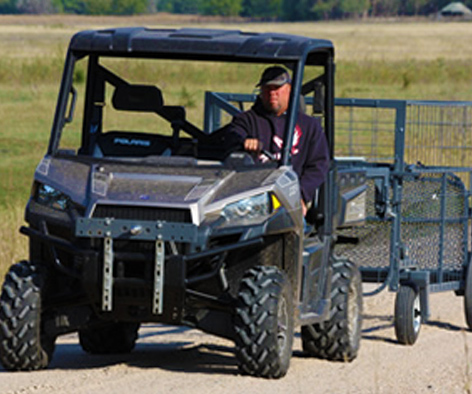 Features and Details
Safety: Calf Catchers are designed for easy, single-person use so any farmer of any age can catch, hold, and transport the calf. The calf holder lets you keep the calf in a stand up posistion making it easier to handle. Safely guarded by the cage you can vaccinate, weigh, tag and brand the calf all while the mother watches on.
Design: Calf Catchers are durably constructed from welded steel. Built to last generations, Calf Catchers are mounted with ball-coupler hitches, permitting better performance in rough conditions, and are easy to mount and dismount. Because of the open design of the calf catcher the mother cow can see, hear, and smell the calf and the cowman remains safe at all times.
Ease: Easily mount a Calf Catcher with a ball hitch on your ATV or UTV. Once attached, the unit remains stable and flexible for easy travel over uneven ground, hills, and ditches. Tansporting calves couldn't be easier with a calf catcher and the mother will follow as she can smell, hear, and see the calf.